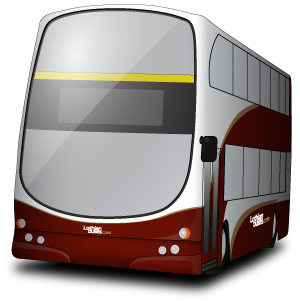 Live bus times are retrieved from My Bus Tracker
Up to 4 departures shown for each service
Save favourite bus stops for quicker navigation
Fully integrated Google Maps for quick stop finding
Scan QR codes at bus stops
My Bus Edinburgh is a bus tracking application for Android. It allows the user to view live bus departure information throughout the city of Edinburgh, Scotland.
Whats New?
The latest version of My Bus Edinburgh is 2.1.1.
New feature: nearest bus stops listing.
New feature: bus service filtering has been added to the bus stop map and the new nearest bus stops listing.
New feature: the bus times display now shows how long it has been since the last refresh.
New feature: favourite bus stops also show which services stop at that bus stop.
New feature: added a user preference to let users show the favourite bus stops upon application start-up.
New feature: StreetView integration.
New feature: bus arrival alerts (experimental feature).
New feature: bus stop proximity alerts (experimental feature).
New feature: QR code support. Supported externally to application by URL interception, or inside the application by starting the zxing scanner.
Preferences have been reordered to make it more logical.
Better integration with the bus tracker system.
Redesigned the bus stop dialog to fit in more with the Android look and feel.
Improved searching on the bus stop map.
Better handling of the bus stop database to prevent application crashes.
Brand new user interface with new artwork. It has also been designed to fit in better with Honeycomb and Ice Cream Sandwich. More support is coming later.
Bug fixes and performance enhancements.
See the entire change log
Requirements
The device must be running Android 1.6 (Donut) or above (this is likely the case for most devices).
The device must have a data connection (such as WiFi, 3G, etc...).
Google Maps must be installed on the device (this ships with most devices).
For accurate location finding, it is recommended the device has GPS functionality.
Not on Android?
Looking for an Edinburgh bus tracking application on iOS? Try EdinBus. On Windows Phone 7? Try Bus Tracker Edinburgh. All other smartphone users should use the mobile My Bus Tracker website.
Get in touch. It'd be great to hear from you.
Thanks for getting in touch
There was a problem submitting the form.